About us...
Cat Loves Crow
Joe and Karena Prater began performing together in 1998 out of a shared passion for harmony singing and old-time country and bluegrass music. Since then, these two versatile singers, instrumentalists, and songwriters have developed a wide-ranging repertoire of original, traditional, and even Russian songs, all featuring their distinctive harmony vocals accompanied by guitar, upright bass, and mandolin. Audiences enjoy their unique blend of songs, their quirky charm, and the interplay of their voices, and they have developed a devoted following in the Pacific Northwest.
Together, they have headlined at the Tumbleweed Music Festival, and have appeared at the Northwest Folklife Festival, the Juan de Fuca Festival of the Arts, the Yakima Folklife Festival, and numerous other venues (see website for further details). They released their first live CD, "Full Moon in February," in 2000, and later released their first studio CD in May 2005, which has been listed as one of the "Top Albums of 2005" on "Our Saturday Tradition" and "Sunday Folks" at KBCS. They have also been featured on the Three Rivers Folklife Society's compilation CD, Front Row Seat.
Joe Prater
Joe comes from a family of classical musicians, and attended Oberlin Conservatory on a full scholarship to study voice.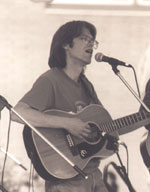 However, his simultaneous discovery of country, bluegrass, and old-time mountain music led him to the Augusta Heritage Center in West Virginia, where he studied traditional singing and performance with John McCutcheon, Ginny Hawker and Ray Fisher. He eventually went on to spend two years in Nashville writing and performing, and currently has two recordings of original songs available. He has performed at venues and festivals around the country, notably the Bluebird Cafe (Nashville), the Northwest Folklife Festival (Seattle), Gerde's Folk City (NYC), and Threadgill's Supper Club (Austin).
Karena Prater
A Northwest native, Karena has always loved to sing, and also comes from a family of classical musicians. She studied classical pia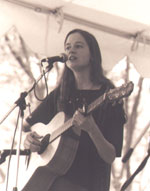 no from childhood, and added other instruments and genres to her repertoire in her teenage years, developing a particular love for the close harmonies of country and bluegrass music. In 1990, she made her first trip to Russia as an exchange student, where she fell in love with the Russian language and folk music, and simultaneously began developing her own songwriting skills. She later went on to spend an additional two years living and working in Siberia in 1995-96, where she continued to build her repertoire of Russian songs which would later find their way into Cat Loves Crow set lists. Upon her return, she began establishing herself as a performing songwriter, appearing at numerous NW venues, including the NW Folklife Festival. Her song, "Kampgrounds of America" was featured on the Bainbridge Island compilation CD, "By Boat or By Bridge." Most recently, her song, "Arlea's Lament" (AKA "Why Would A Baby Go Hiking?"), won first place in the 2008 Tumbleweed Music Festival's songwriting competition.
Arlana June Prater
Joe and Karena are now also the proud parents of a beautiful daughter! Arlana June Prater was born in December 2005.
*all photos on this page by Heron Forrester